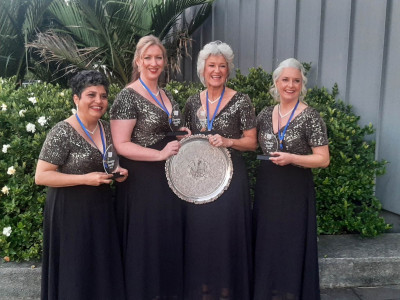 Unlimited Quartet are the 2023 quartet champions, winning at the recent national competitions and securing the highest score ever achieved by a quartet in New Zealand. This win makes Unlimited Quartet eligible to represent New Zealand at the upcoming Sweet Adelines International competition in Louisville, Kentucky later this year.
All four members of Unlimited have many years of experience between them – 82 in total at last count – and came together by word of mouth and some shoulder-tapping.
Jill Rodgers, who sings lead, and Kate Sinclair, the tenor, both live in Hamilton and coincidentally, or perhaps derivatively, Jill is the director of the men's Mighty River Harmony Chorus while Kate directs the women's Waikato Rivertones Chorus. Their expertise and leadership within these prestigious groups undoubtedly contribute to the quartet's success. Helena Lister and Mehernaz Darukhanawalla both live in Auckland and round out the quartet sound with their rich lower voices. Both Helena and Mehernaz are very experienced barbershop singers, bringing their expertise from many years singing with medal-winning choruses and quartets and other singing ensembles over past decades.
These four women say that the exciting thing about singing together is how well their voices match to form a harmonious unit that is truly greater than the sum of its parts. And best of all is how well they all get on together sharing many laughs as well as working hard together.