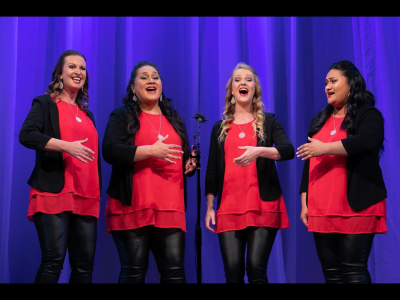 Fire & Ice have been singing together since September 2017 and proudly represent 3 different cities: Henri and Jane E (Wellington), Cat (Christchurch) and Jane M (Hamilton).
This means that rehearsal times, though few in number, are packed with singing, coaching, laughter, learning, eating and more singing! (and maybe more eating)...
Their first contest together in May 2018 saw them come away as the Region 35 Quartet Champions, giving them the honour of representing NZ at the International contest in St Louis October 2018. Ranked last with the lowest scoring qualification score, Fire & Ice managed to work their way up the ranks finishing 23rd overall out of 42 competing quartets, a result that they are very proud of.
They love to sing all types of music and are involved with bands, school groups, musical theatre and church.
They are:
Tenor - Jane Martin, Lead - Cat Hay, Baritone - Jane Esera, Bass - Henrietta Hunkin-Tagaloa