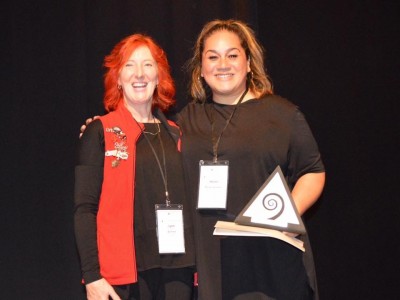 Service to Young Women in Harmony
The annual Service to Young Women in Harmony award recognises the commitment and passion of a person who strives to provide opportunities, support and encouragement for YWIH in New Zealand. Congratulations to the 2019 recipient Henrietta Hunkin-Tagaloa. She has served as YWIH National Coordinator for Region 35, lead a YWIH judging workshop and served as a YWIH judge herself for many years, and has been a role model, inspiration and coach for many young women discovering the joys of the barbershop artform.
Photo by Brianna Perry. Henrietta (right) is pictured with award presenter Lynn Jamieson.