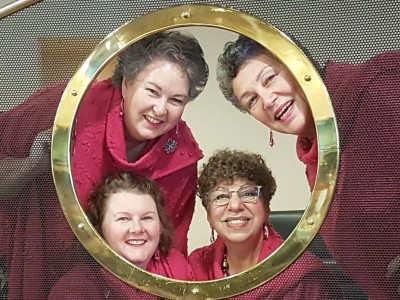 Revelry Quartet has been singing (and laughing) together for 10 years.  Sharon (tenor), Kaye (bass), Bernadette (lead) and Trish (bari) comprise a medal-winning quartet.
Revelry Quartet has been successful in the "open division" in New Zealand since 2015, when they participated in it for the first time.  And in 2018, Revelry travelled to Hobart in Australia to participate in Sweet Adelines Australia's Open Division. It turned out they were the only quartet registered for this division, so their entertaining package was well received and provided some light relief for the audience and the judges alike.
Revelry loves to perform, and is "available for hire".  To help support their "a cappella habit", they also offer catering for small to medium private functions, and are available for hire for that too.  When they're not singing together, they enjoy one another's cooking, eating out and sharing bottles of wine.
Revelry's repertoire includes a wide range from popular, easy-listening songs, through to swing, rhythm and blues – they are especially fond of Manhatten Transfer songs with a few ballads thrown in for contrast.