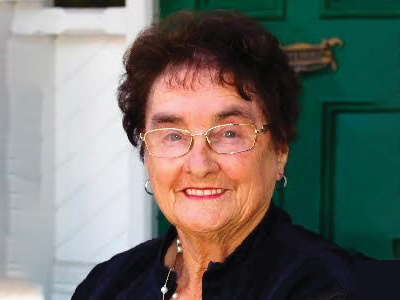 Spirit of Sweet Adelines Award
Congratulations to our Region 35 Spirit of Sweet Adelines Awards recipient for 2020: Mabel Knight from Christchurch City Chorus! Mabel is a good with words – she has turned her hand to updating and managing and holding the role of Region 35's Standing Rules Coordinator for many years. She has written shows, full scripts, show run-sheets AND the 2005 Region 35 20th Anniversary Book marking the journey of Sweet Adelines in New Zealand since it began. Mabel is organised, thorough, reliable.
Mabel is a singer with The Christchurch City Chorus for 27 years. She has represented her chorus at every Sweet Adelines International Convention her chorus has qualified to compete in - as well as singing with her chorus in New York's iconic Carnegie Hall.
Mabel is a do-er. She leads by example and is also a great team player. She's a thinker – a giver – a planner. These are leader qualities that have led her into many leadership positions where she has been a dedicated and generous woman, showing her confident, no-nonsense approach to getting the job done. 
Since 1978, Mabel has performed, directed and stage-managed for her local community arts group - giving her all to this fine group of performers, The Kirwee Players. That's 42 years of shows!
Her compassion for others is sincere and shown in a kind check-in and many practical kindnesses. From meals and baking delivered, to hosting at her home and sharing rides. Mabel is big-hearted.
She has held management positions on the Christchurch City Chorus Management Team as Historian, the writer of the weekly bulletin, Coordinator of Standing Rules and Team Coordinator. Mabel has served on the Christchurch City Chorus Creative team as a writer of scripts and undertaken efficient stage manager responsibilities.
Mabel has most recently served seven years on our Region 35 Management Team as Team Coordinator. As a leader Mabel hasn't forgotten that a personal touch and approach is often the best way to understand and resolve a problem. A phone call, a time to talk is Mabel's way.
Many of you Sweet Adelines will have seen Mabel at Region 35 Conventions – back-stage, running meetings, greeting and hosting judges, singing and performing on stage. She's a gal of many parts!
Mabel is comfortable in herself and is able to turn her hand to most things and knows she is the better for doing so. She faces challenges with common sense and shakes her fist at tough jobs. She'll give it a go. And then some.
Congratulations Mabel, and thank you for all your valuable contributions over many years.