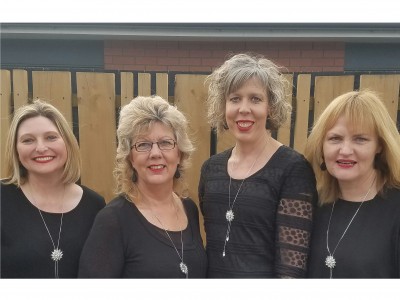 Contact Phone:
Steph Skinner - 027 415 7633
In 2017 SV started with Jill (Tenor), Steph (Bass), Linda (Lead- actually a Baritone) & Meg (Baritone).
All new to Quartet singing, blending three accents and vowel pronunciations is challenging with 2 Kiwis, 1 Swede and 1 Zimbabwean.
Inspired at the Quartet competitions, Wellington 2018, we decided to "just do it" and have registered to compete in Dunedin 2019. Are we ready?? Who knows but we are having fun on this journey.
We thoroughly enjoy our monthly Saturday "Vibe" days. It's gotta be good when four women can agree on the song, costume, shoes, and lunch menu.