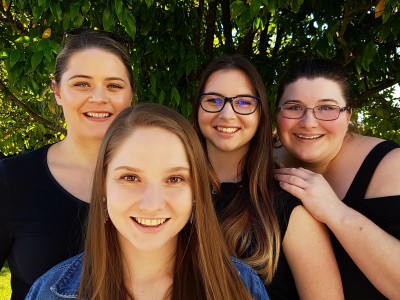 Heist quartet was established in 2017 and 3 of our 4 members currently sing with the Waikato Rivertones Chorus. Our Tenor who was previously with the Waikato Rivertones Chorus, has since made the move to Wellington for her career and now sings with Embellished chorus. We are now a long distance quartet which has been a new and exciting challenge for our journey as a quartet this year! 
When we are together we love making music, having a laugh and drinking lots of good coffee.
Tenor: Charlotte Gordon
Lead: Wendy Rowe
Baritone: Kathryn Harris
Bass: Cecelia Lockley
Follow us! 
Facebook.com/HeistQuartet 
Instagram.com/HeistQuartet